One of the premier real estate markets in North India is in Noida, which is renowned for its affordability, strong social and physical infrastructure, and good connectivity. It is now one of the most appealing spots for value-oriented returns as a result of these factors. The housing market in Noida has a lot of profitable options that are priced reasonably for real estate. Furthermore, because resources are scarce in metropolitan areas like Delhi, spillover demand has significantly increased the likelihood that housing projects will succeed here. As a result, Noida is now establishing itself as a hub for both residential and commercial investments.
Here's presenting some of the luxury apartments in Noida
1. The uncharted greens of Godrej Woods
Many call it the "best property" in Noida– Godrej Woods is an example of beautifully designed living spaces and is situated in Sector 43, just a short distance from the Noida-Greater Noida Expressway. This 10-acre gated community perfectly satisfies the needs of a healthy lifestyle with an abundance of luxury. It is enveloped by the idyllic tranquillity of more than 600 trees. The completion date for this massive project is March 2025, and construction is ongoing.
Godrej Woods, which has 10 towers and 250 residential units in the centre of Noida, boasts a luxurious and practical lifestyle. The project offers plenty of room and a coveted fusion of first-rate amenities, while raising the bar for design and aesthetics.
A stunning selection of luxurious 2, 3, 4, and 5 BHK apartments, ranging in size from 1053 sq.ft. to 3756 sq.ft., are available at Godrej Woods. The cost of these luxury residences ranges from INR 93 Lakh to INR 5.50 crore.
2. Resort-style living in Godrej Palm Retreat
Among the ultra-luxury apartments in Noida, Godrej Palm Retreat provides 430 'Resort Residences' for the select few in Noida's greenest neighbourhood, Sector 150 of Pusta Road. Immerse yourself in a lifestyle that gives you the impression that you're going on a lifetime vacation with exquisite facilities at your disposal. The project is imagined by Godrej Properties, which is among the most reputable real estate brands. It was introduced in September 2019, and possession will commence in June 2025. Low-rise, resort-styled housing is what is on offerat Godrej Palm Retreat to ensure quality living in a low-density environment with genuine indulgences.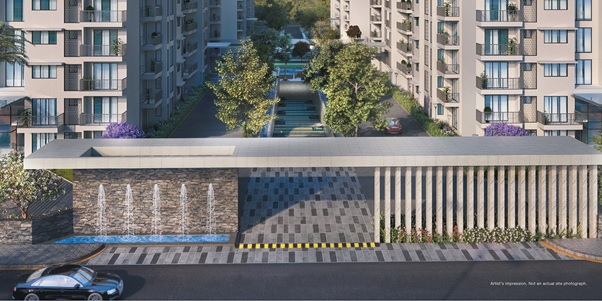 In the middle of the city, Godrej Palm Retreat aims to provide a resort-styled lifestyle. The project boasts a central green area of more than 20,000 square metres. Godrej Palm Retreat, a completely gated community, offers three configurations in 12 different immaculately designed layouts that range in size from 1629 to 3964 square feet. The cost of these opulent homes ranges from INR 86 Lakh to INR 1.99 Crore.
3. The nourishing environment of Godrej Nurture
Located in Sector 150, Godrej Properties introduced Godrej Nurture as one of its premier residential developments in Noida. The residential area provides a distinctive experience and is fully furnished with first-rate contemporary amenities. Over 9 acres, it has 385 units that look out over Noida's skyline. Buyers can choose from a variety of amenities at Godrej Nurture. The magnificent property is situated in a prime area. The Noida Greater Noida, Yamuna and FNG Expressways provide signal-free access to the National Capital. The upcoming Delhi metro brings the industrial capital, Gautam Buddh Nagar, closer. Godrej Nurture as an upscale residence provides luxury that has been meticulously crafted. The top-notch amenities include a tennis court, basketball court, swimming pool, and more. The first phase of Godrej Nurture was introduced in March 2019, and possession of the property is planned for September 2025.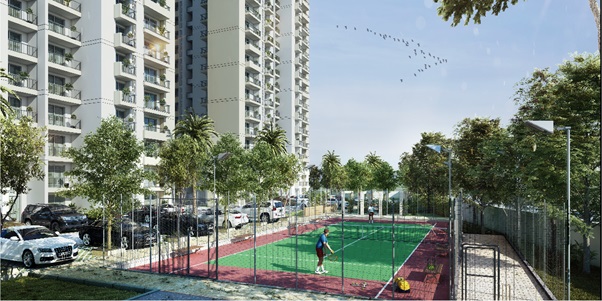 2BHK homes are priced at INR 89.4 Lakh onwards, 3 BHK homes from INR 1.08 crore onwards and the 4 BHK ultra-premium homes from INR 1.94 crore onwards.
4. Tee of at Godrej Golf Links
Godrej Golf Links is a carefully crafted project that can be found in Sector 27 of Greater Noida. It has an overview of golf courses and is located close to Pari Chowk. The project is organised to accommodate studio apartments of 722 square feet in size as well as 2BHK flats with square footage that range from 1004 to 1325. Over 127 housing units make up the entire project.
The area around Godrej Golf Links is full of features and amenities that improve the quality of life. The development includes a 9-hole golf course, group homes and an 8000 square foot clubhouse, a playground for kids, a learning centre, a swimming pool, a verdant garden, and mindfulness and recreational centres. Residents can experience a unique way of living in this complex, where there are units ranging in price from INR 55 Lakh to INR 6 crore. The project, which spans 100 acres, is evenly spaced out.
5. Nestle up in Godrej Nest
Spanning over an area of 9 acres, Godrej Nest is a thoughtfully designed project that is well situated in Sector 150, at the heart of Noida. The reasonably priced Godrej Nest is on sale for between INR 65.5 Lakh and 2. 88 crore. There are 545 units in the property, all of which are basking in tranquillity.
The building offers units with various layouts and sizes, including 3 BHK Flats and 4 BHK Flats (1907 Sq. Ft. to 2330Sq. Ft.). This thoughtfully designed project comprises 7 towers.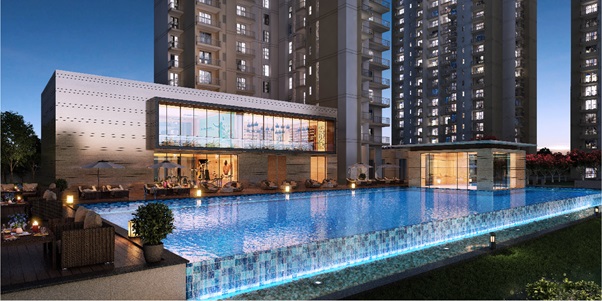 Most of the top locations in Delhi and Noida are conveniently accessible from Godrej Nest apartments. Here at Godrej Nest, sophistication has been redefined in a project that places you right at nature's lap. One of Godrej Nest's best features is its abundance of amenities, which include necessary underground wiring, an excellent drainage system, and beautiful trees for a lush green environment. Godrej Nest, one of the most wonderful luxury projects in Noida, offers a wide range of recreational amenities, including a clubhouse, a swimming pool, a gymnasium, a jogging and strolling track, a cafeteria/food court, a cycling and jogging track, a meditation area, a library, and a business centre.
Choose your home wisely after weighing out the pros and cons and a thorough research of the neighbourhood and social infrastructure around your apartment complex.
FAQs
What are the most expensive sectors in Noida?
Sectors 55 and 56, and Central Noida sectors are home to some of the most expensive residential complexes in Noida.
What are posh sectors in Noida?
Some of Noida's best upscale neighbourhoods include Sectors 55 and 56, which offer first-rate amenities. Both areas are known for being among the safest neighbourhoods in the city. The areas are well known for having first-rate infrastructure and connectivity to other areas of the city.
What are the best residential societies in Noida?
The best residential societies in Noida are mentioned above.
Is Noida a good place to live?
Yes, it is a great place to live due to rapidly advancing social infrastructure and opportunities.
Where can I find luxury apartments in Noida?
Luxury flats in Noida can be found in almost all of the sectors. Gather more information about the sectors to make your decision based on your personal preferences and needs.
What is the price range of luxury apartments in Noida?
While the prices of luxury flats in Noida vary wildly based on the developer and the layout, INR 1.5 to 2 Crores is a good starting price.