Bangalore has been one of the top cities when it comes to real estate investing and emerging job opportunities. If you are considering investing in a city like Bangalore, you should be well aware of the top investment hotspots in the city. As Bangalore is one of those cities in India, which has been less impacted due to the COVID-19 situation, the demand in the real estate market is still intact. Bangalore, the charming city has various options from luxurious villas, affordable housing and plots to choose from, the city has it all.
Bangalore has a few top investment locations which allow you to choose a property that suits your preference and budget.
Below is a graph that shows the increase in the property prices in a few hotspot investment areas in Bangalore: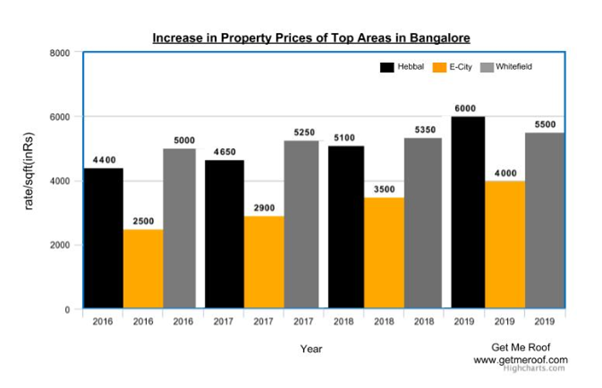 Whitefield
Whitefield is a mix of the corporate and residential hub in the city. Several investors and builders have invested in Whitefield to boost big-spacious and world-class apartments. Whitefield, Bangalore has unmatched connectivity in terms of commute as the closest railway station is 8.5 km away. Godrej United, Whitefieldin Bangalore has houses from 1 BHK to 4 BHK with world-class amenities and just 0.7 km away from Phoenix metro city. This project is designed with sustainable features throughout the property. With its lush green and 80% open spaces it is one of the prime locations to buy a house in Bangalore.
Godrej Splendour is an elegant residential project located in the lush surroundings of Whitefield in the eastern region of Bangalore. The project spans across a vast area of 17.76 acres and offers finely crafted 1, 2, and 3 BHK apartments.
Hebbal
Hebbal is situated in North Bangalore and is one of the prime locations near Hebbal lake. The area is surrounded by a gorgeous and impressive infrastructure. Hebbal is considered to be the hotspots for luxury real estate in Bangalore. If you are looking for the utmost luxury residential property, Godrej Platinum, Hebbal is one of the many options you can opt for. The life here is a dream come true with alluring design towers and penthouses and is surrounded by the breathtaking view of the Hebbal lake. To make your life truly worth living it has top-notch amenities such as an indoor temperature-controlled swimming pool, outdoor swimming pool, kids play area, clubhouses etc. It is the prime location at a convenient distance from school, colleges and shopping centres.
Sarjapur Road, South Bangalore
Sarjapur road is a hub for IT companies start-ups. Due to which it has led to the set-up of large residential areas for the people to live close by. It is one of the affordable residential options to choose from in Bangalore.
Devanahalli, North Bangalore
Devanahalli in North Bangalore is considered to be one of the most emerging markets in the real estate sector. It has seen massive growth in the past few years with the rise in demand for houses in the real estate market. Situated in the North of Bangalore and 13.5 km away from the Kempegowda International Airport, it has the loveliest properties that you must know of. Godrej Royale Woods, Devanahalli is a blend of security and harmony to live a better life. It has apartments offering from 2-3 BHKs to luxury villas as per your budget and requirements. It is a decent mixture of affordable housing and luxury lifestyle. You can also get a virtual tour of the property and get assurance on the amenities promised. It is surrounded by themed gardens, forest-themed clubhouses and treetop home views. This is one investment property you never want to miss out on.
Indiranagar, East Bangalore
Due to the excellent social infrastructure and proximity to Bengaluru's key business districts, the Indira Nagar housing market has benefited greatly. Since the IT boom, Indira Nagar has undergone significant change. The demand for apartments in Indira Nagar has risen quickly, drawing many migrants, and fostering the development of a more international neighbourhood.
In comparison to its neighbouring localities, Indira Nagar offers a substantial return on investment because of its strategic connectedness to the major IT parks in this area and the presence of all necessary social infrastructure. There are quite a few builders like Godrej Properties, Indiranagar launching new projects and flats in Indiranagar. Godrej Athena, a Greco-Roman style residential complex, provides luxurious and sustainable flats, keeping in mind both comfort and the future generations. The wide open spaces and acres of greenery make it a wonderful place to live.
The rise in the real estate projects in Bangalore has made it possible for investors, realtors and residents to buy a house from economic class to luxurious apartments and villas. With the charm of the city and emerging new businesses, Bangalore has become one of the most popular real estate options with options in every prime location. Are you looking for more information related to real estate? You can check outIs real estate a good investment?